Fly Fishing Shirt as a Gift
Fly Fishing Long Sleeve Shirt
Fishing Shirt for Men and Women (Unisex) with UPF sun protection. The material is super lightweight, ultra soft and breathable – the graphics (front and back) are awesome. 100% microfiber drys in minutes. Price is under 35$.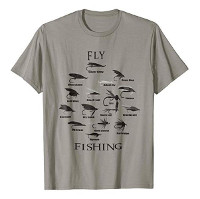 Vintage Fly Fishing Baits T-Shirt
This Fly Fishing themed T-shirt is perfect as a gift for fisherman who love fly fishing. The sketch T-shirt features the images and names of vintage fly fishing lures. Under 20$.



Fly Fishing Rod Reel T-Shirt
Mens T-Shirt the "Flyologist", 9 different colours – the price is between 15 and 22$.



Comfy Fly Fisherman Shirt
Excellent long sleeve fishing shirt, heavyweight material. Nice design on front and back. Perfect gift for boyfriend, husband or dad. Colors: Titanium and Dusk Blue – under 20$.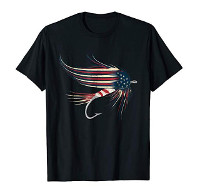 American Flag Salmon Fly T-Shirt for Man and Woman
This lightweight patriotic shirt would make a great gift for the angler you know – you can choose between 5 differnt colours.