Fly Fishing Decor as a Gift
Four Fly Fishing Lures Art Prints
Set of four original patents of fly fishing lures – printed on glossy photo paper. This terrific prints are a beautiful gift for any fly fischerman. They are going to look wonderful at a cabin, home office or lake house. Price is under 20$ (frames are not included).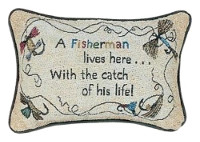 Decorative Fly Fishing Pillow
This woven decorative und cute throw pillow is a awesome gift idea for your favorite fishing enthusiast. The price for this cool little pillow is under 15$.



Fly Fishing Area Rug
This nice looking rug has a great quality, is very soft and the colors are wonderful. This area rug is stain resistant and is made with durable and fade resistant polypropylene. You can choose between four different sizes – prices are between 55 and 140$.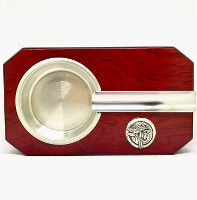 Fly Fishing Lure Cigar Ashtray
This excelent rosewood cigar ashtray is made with a solid stainless steel tray for capturing ashes inlaid. The handsome piece is easy to clean and comes in a gift box – price is under 30$.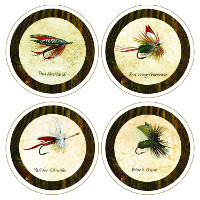 Fishing Flies Collection – Absorbent Coasters
4 Piece Fishing Coaster Set. Nicely printed fly pictures and good quality. A beautiful gift for fly fisherman.


Cedar Fly Fishing Box with Fly Fishing Rod, Fish Net and A Resin Fish
This decorative wooden fishing box is a perfect gift for fisherman. A good place for pocket contents or small presents. Ideal for father's day, birthday or christmas.

4 Piece Lake Fly Fishing Baits – Gift Wall Decor for Fly Fisherman
Nice decoration for home office, lake house or cabin. Beautiful print of 24 different fishing flies – quality artwork.