Selected gifts for fly fisherman 2018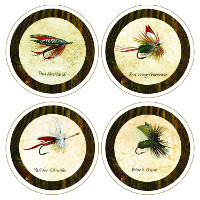 Fishing Flies Collection – Absorbent Coasters
4 Piece Fishing Coaster Set. Nicely printed fly pictures and good quality. A beautiful gift for fly fisherman.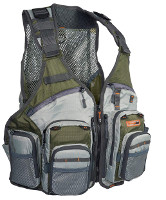 Fly Fishing Vest for Man and Woman
This light weight and breathable fly fishing vest has plenty of well made pockets – very useful for storing all the gear when fishing (or for outdoors activity in general). Has adjustments at the shoulders and waist. For the price (under 70$) you can't go wrong.


Fly Reel Coaster Set
A set of 4 different fishing flies. Perfect as a gift for any cabin or person who likes fly fishing.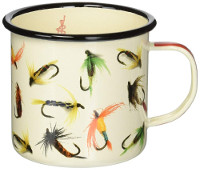 Enamel Mug with Fly Fishing Baits Motif
Flyfishers will enjoy this cute cup. Also great for backpacking, camping or any other traveling and outdoor activities.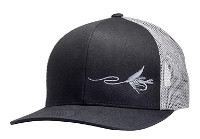 Trucker Hat – six differnt colours
It's hard to find good fly fishing hats and this one is nice. This trucker hat has an adjustable plastic snap closure and cost under 25$.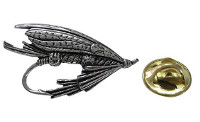 Fishing Fly Lapel Pin
This awesome lapel pin made of tin comes in a gift box and cost under 20$.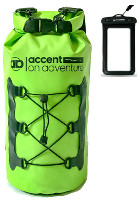 Waterproof Dry Bag – Compression Sack
Awesome neon-colored dry bag for fishing and other outdoor activities – PVC tarpaulin material. The bag has adjustable straps and comes with a waterproof phone holder as gift. You can choose between five different colours und two sizes. Price is between 21 and 31$.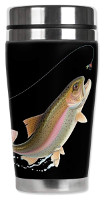 Leaping Fish Travel Mug – made of Stainless Steel
This mug with Insulated Wetsuit Cover (stain-resistant) is for hot and cold beverages – the stunning graphic is a cool accent. Price is under 20$.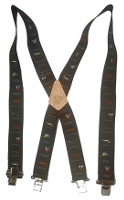 Fly Fishing Suspenders
Great looking Suspenders with fishing flies motif. Well made and solid suspenders, fit very comfortably with comfortable stretch. The clips are very heavy duty.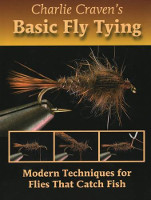 Fly Tying – Modern Techniques for Flies That Catch Fish
As a fly fisherman, tying your own flies is always a consideration. This Fly-Tying Book is great for beginners. Great instructions and helpful photographs make it easy to learn the basics of fly tying. I have caught many fish on his recommended patterns.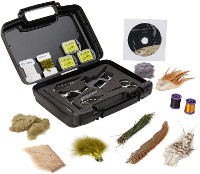 Fly Tying Kit with Travel Case
Great starter kit, all the stuff what a fly fisherman need to get started. It's under $50 – inexpensive and of decent quality. The fly tying kit is a ideal christmas gift and a beautiful hobby for cold days. Also good for traveling.

Cedar Fly Fishing Box with Fly Fishing Rod, Fish Net and A Resin Fish
This decorative wooden fishing box is a perfect gift for fisherman. A good place for pocket contents or small presents. Ideal for Father's Day, Birthday or Christmas.

4 Piece Lake Fly Fishing Baits – Gift Wall Decor for Fly Fisherman
Nice decoration for home office, lake house or cabin. Beautiful print of 24 different fishing flies – quality artwork.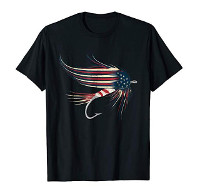 American Flag Salmon Fly T-Shirt for Man and Woman
This lightweight patriotic shirt would make a great gift for the angler you know – you can choose between 5 differnt colours.